Linghu Chong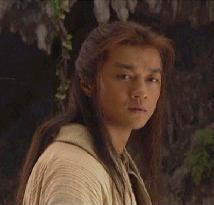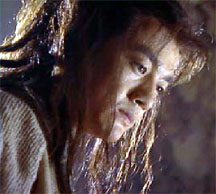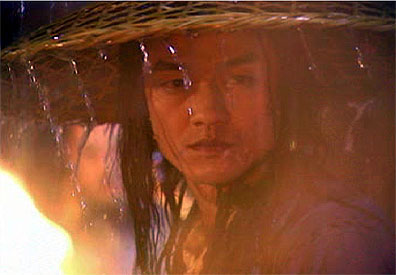 Background on XAJH 2001
The main character in the novel and perhaps also the most popular male character in Jin Yong's novels, among readers. An orphan, since young, adopted by Yue Buqun and Ning Zhong Zhe. He respects them a lot. Became the eldest disciple of Huashan Sect. He is a fun-loving, straight-forward and sentimental person. He is one who is not easily bothered by minor details. Also, unlike others, he does not adhere strictly to the often rigid regulations of the pugilistic world. He has no qualms about doing things that he feels are right and deserve to be done. To him, the perceptions of evil and good are different from other's views, which is why he is often ortrasized by the so-called righteous sects. He is emotionally attached to his xiao-shimei, Yue Lingshan. They are childhood sweethearts.
However, it seems Heaven loves to make sport of him. A series of misfortunes, I would say, hit him. First, he is maligned of killing his fellow disciple, accused of stealing the 'Zixia Shengong' and then associating with the evil cult. When he mastered Dugu Swordplay from a great pugilist, people even suspect that he had stolen the 'Pi Xie Jian Fa'. Worse still, his most beloved xiao shimei has a change of heart which makes him devastated.
He then gets to know Ren Yingying and touched by her deep affection, he finally knows that RYY is his true confidantee. Together, they play the Xiao Ao Jiang Hu tune and tied the nuptial knots, washing their hands off the affairs of the pugilistic world.
I would think the most appropriate term to describe him is 'a reluctant hero'. He never wants to reign supreme but by chance, he has learnt 2 great martial arts, Dugu Swordplay and Xixin Da Fa, which make him almost invincible. He never wants to be a leader, but fate decrees that he become the chief of Hengshan Sect, heading a group of nuns. He holds high regard for his shifu and Huashan sect but is expelled from the sect in the end.
"Linghu Chong - a chivalrous, loyal yet reluctant hero."
Performance
Li Yapeng is perfect as Linghu Chong by appearance and acting portrayal. Not-too handsome, but have the charm and charisma. Looks very good in ancient costume and that hairstyle. He has thick eyebrows and thin lips, just how LHC was described in the book. He has the screen presence to be the hero, the main character, Linghu Chong.
Li Yapeng's Linghu Chong is cheerful, playful and fun-loving just like in the book. Really glad to know that the producer didnt change Linghu Chong's character here. Because, some other Linghu Chong were portrayed way too melancholic, because of the tragic story.
Note: This is definitely just our opinion. Some people said, Li Yapeng portrayed Linghu Chong as a melancholic character or too serious...but we didnt see that. Li Yapeng acted the funny and silly LHC superbly, he's very funny that could really make you laugh. He do cry in some scenes....but, the Linghu Chong in the book, also sad when everyone accused him and even cried when he knows from Shaolin monks that he has been expelled from Huashan... So, we sincerely think Li Yapeng has done his best.
Actor's Profile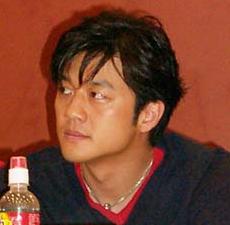 Name: Li Yapeng
Place of Birth: China
Date of Birth: 27 September 1971
Star Sign: Libra
Height: 180 cm
Weight: 78 kg
Hobbies: Basketball, weiqi, writing essays.
Fav instrument: Saxophone
Fav Singer: Andy Lau

Movies:
Fang Bian Mian Shi Dai
Ge Shou
Shanghai Gu Shi
Qing Chun Zuo Zheng
Filmography:
1997 - Hong Fa Ka
1998 - Ruan Shi Hong Cheng
1998 - Beijing-Hongkong Love Connection
1999 - Jiang Ai Qing Jin Xing Dao Di (Let Love Continue)
1999 - Qin Qian Ri Yue Xing
2000 - Xiao Ao Jiang Hu (State of Divinity)
2000 - Shuang Cheng Gu Shi
2002 - She Diao Ying Xiong Zhuan (Legend of Condor Heroes)