The Making of The Serial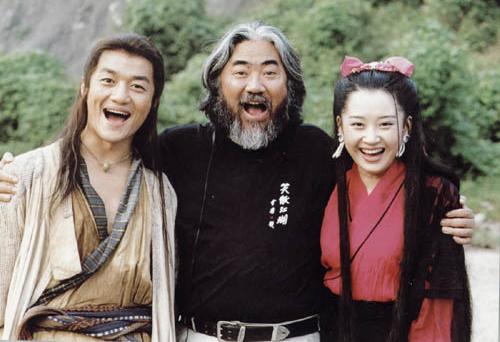 Apparently, there is a book containing some detailed facts on SOD 2001! And, most of it revolves around the making! Too bad...neither of us have the book yet...=(( We'll try our best to get a hold on it, though! For the mean time, Erv is being very kind to be the contributor for this site ^_~ Erv had bought the book, and here are some pics and snippets Erv provided for all of us...once, again, thank you very much, Erv!!!^O^
Interesting Snippets
1. CCTV, producer of SOD 2001, has requested for the production rights to the entire Condor Trilogy. Jin Yong agreed after only a short telephone discussion with his copyright manager, and has recommended to CCTV that the same crew for SOD 2001 handle the job.
2. Jin Yong told Xu Qing, "You are the Ren Ying Ying I have always imagine her to be."
3. The SOD 2001 producer is the same guy who produced the legendary "Water Margin" and "Romance of Three Kingdoms", and is currently helming "Legend of The Condor Heroes", in which the early grassland shoot is near completion.
4. The swords used by each sect are different and designed based on the characteristics of each sect - e.g. Song Shan's swords are big and intimidating, Heng Shan's are elegant and slim. The swords used by the key roles - Linghu Chong, Ren Yingying, Yue Buqun - are real swords.
5. The key actors went to Wu Shu camp and were told to keep their swords by their side at all times throughout the day, to help them get into the 'wuxia' mentality.
6. Principle shooting took 181 days to complete. That's only one day more than the scheduled 180 days - a testament to the hard work and efficiency of the crew.
7. Li Yapeng was ordered not to work for more than 16 hours a day.
'Xu Qing as Ren Yingying' Pictures
If you want to see it in it's original size...then, just right-click it and then choose 'View Image', if you're using Netscape! If you're using Internet Explorer...then just 'Save Picture As...', you'll automatically download it in it's original size!!^^